In this third and final installment in this series of blogs on bolt-on horsepower, we'll focus on 13 ways to safely unleash horsepower through ECUs and Programmers. Though the ECUs that JPCracing.com carries don't necessarily create power, they can certainly help you apply it and do so across a wider power band. Check out some of our featured ones below; we think you'll like them!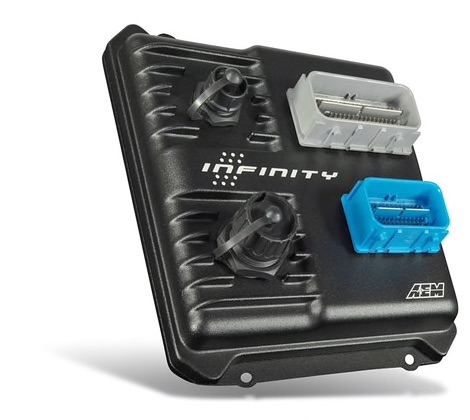 Airflow model based calculations
VE-based engine startup
Multi-fuel capable
Flex fuel compensated – fuel, ignition and boost with blend
Multiple boost control strategies (time, gear, vehicle speed, switch and more)
Drive by wire (with Advanced Tuning Package)
2-step programmable launch control (3-step with Advanced Tuning Package)
Programmable traction control, 2-wheel speed or engine acceleration (4-wheel speed with Advanced Tuning Package)
No-lift shift (Requires Advanced Tuning Package)
User configurable soft-cut rev limiters
User configurable anti-lag
Map switching (4 Separate ignition maps, 4 separate Lambda target maps, 2 separate VE tables)
Single stage wet or dry nitrous control (4-stage with Advanced Tuning Package, coming soon)
Integrated engine protection strategies
Target Lambda table, 10x10
Open-loop fuel pressure compensation
O2 lean-out protection
2-channel adaptive knock control
Configurable coil dwell (RPM, voltage and load based)
Individual cylinder ignition trim (RPM based)
Individual cylinder fuel trim (RPM based)
3D ignition trim maps (coolant and air temp)
Real-time sensor diagnostics
Ignition table, 20x20
VE airflow table, map vs. engine speed, 20x20
User adjustable charge temperature blend (CLT/AIT, engine speed dependent)
Idle control (stepper and pulsewidth)
Additional AEM options:
6. NLR-AMS 2000 Boost Controller Pro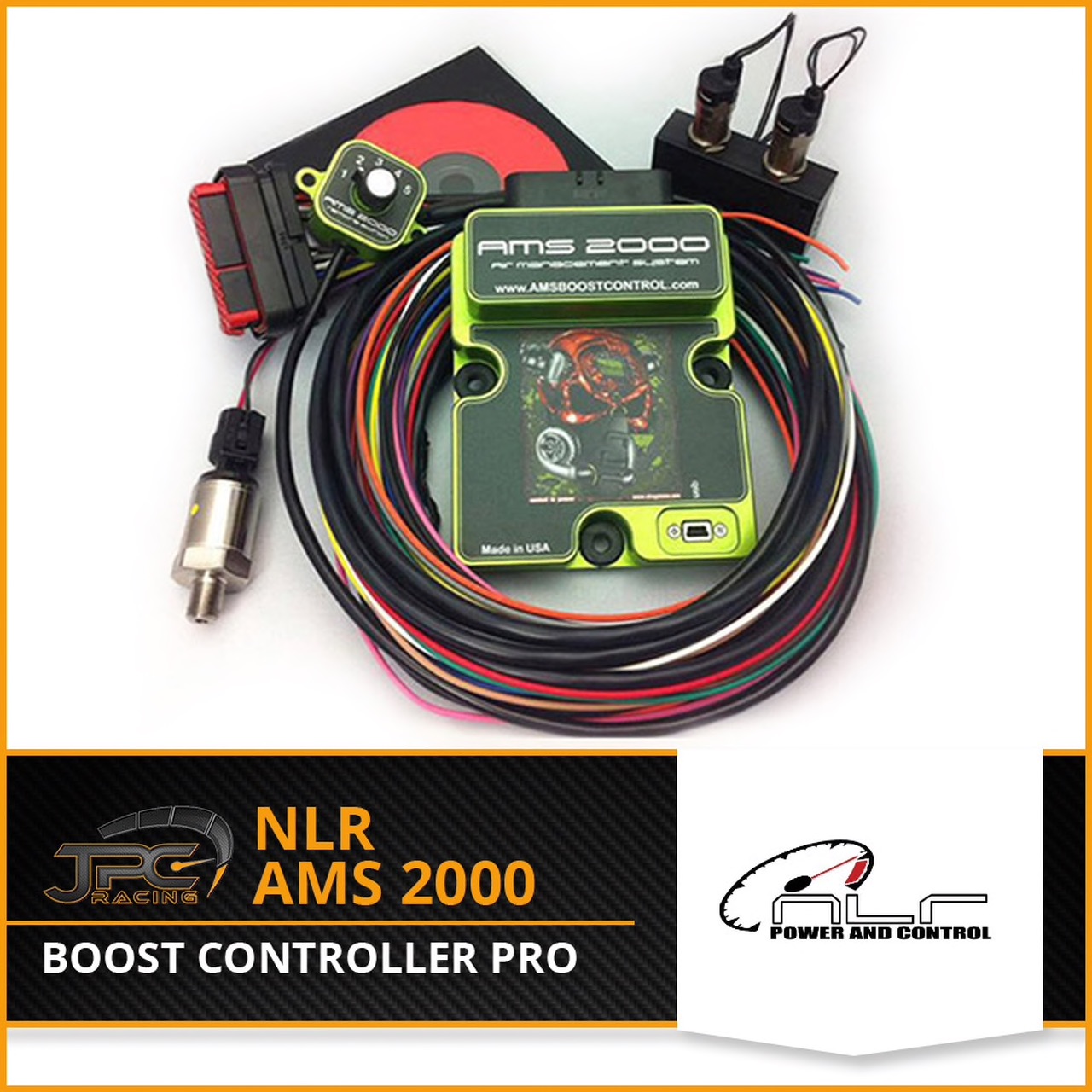 The features of the AMS-2000 will make tuning, logging and adjusting to pick up ET and MPH easy and straight forward. The AMS-2000 offers numerous control strategies you can choose from. Once you choose a primary control strategy the rest become offsets to that strategy! This gives you the ability to mix and match as well as integrate numerous inputs to create a single highly advanced control curve delivering the absolute most advanced capability ever.
7. Haltech Elite 2500T for 2014-2017 Mustangs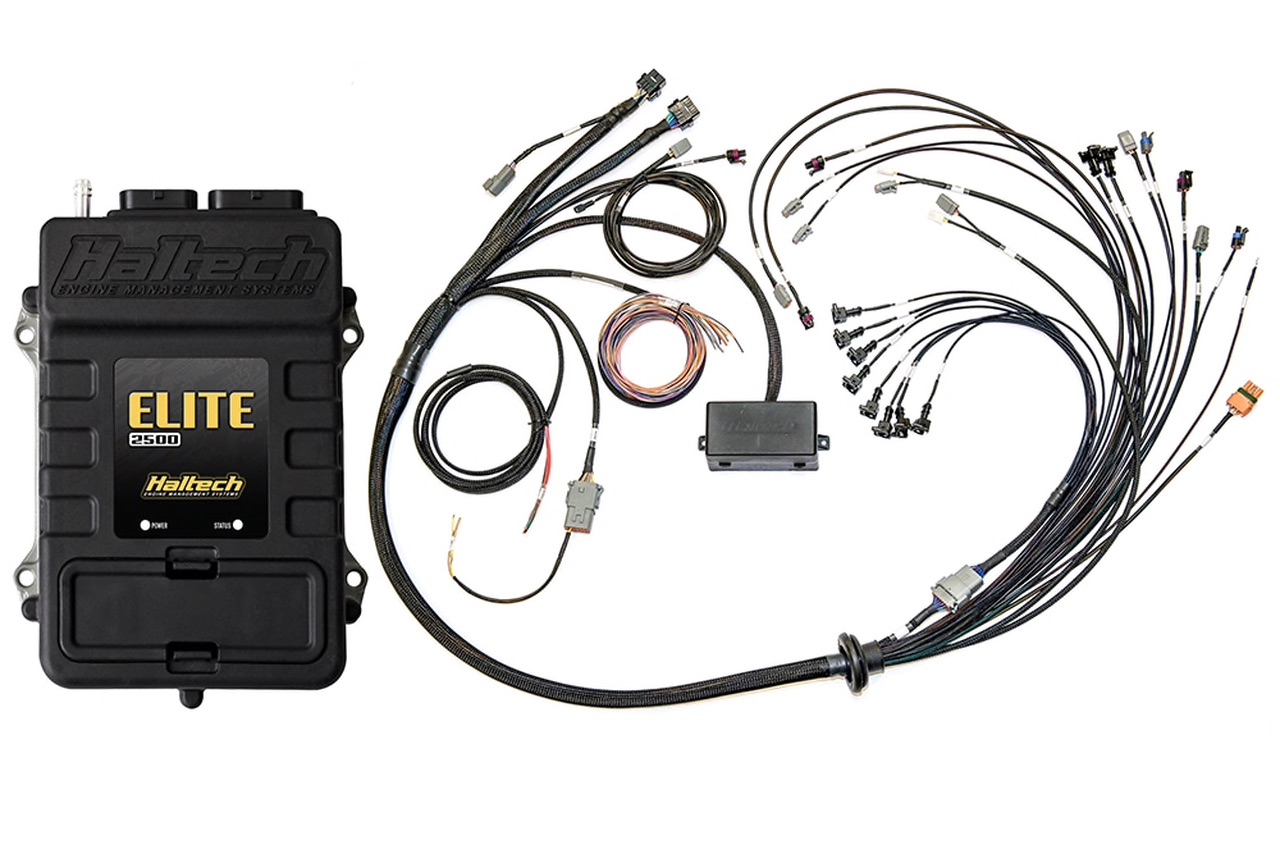 Harness Features:
On the ECU side the Terminated Engine Harness includes Haltech ECU connectors and an optional CAN Wideband connector.
On the engine side you'll find an array of fully terminated engine connectors and a group of unterminated in-cabin wires.
All the wires are clearly labelled eliminating any guesswork.
The harness includes a fuse box with five fuses and five relays.
The harness included a 2″ gromit to protect the harness as it passes through the firewall.
ECU Features:
Drive by Wire Throttle Control (DBW) - Requires (2) user defined outputs & (4) user defined inputs
Low Impedance Injector control with Programmable Injector Peak and Hold Currents & Programmable peak time
Flex Fuel Function (Direct sensor input) - Tune your engines boost, fuel and ignition by ethanol content
Flexible tuning setup for Petrol (Gasoline), LPG, Methanol and Ethanol allows you to simply select your fuel type
Closed Loop 02 Control - Dual bank control for precise tuning (With optional external CAN O2 Wideband Controller Kit)
Dual Channel Knock Control - Synchronised to engine position with high speed digital filtering for accurate detection
Variable cam control - Independently control up to 4 camshafts - Requires a minimum of 1 user defined input & output per variable cam
Closed Loop Idle Speed Control with learning for consistent idle stability Requires 1 or 2 user defined outputs (BAC type) or 4 user defined outputs (Stepper motor type)
Long term learning (Auto tune) on fuel, ignition, cam, boost & idle control maps (up to 4D)
On-board data logging - Up to 40 channels of logging at sample rates up to 5ms (200Hz) with 2MB of internal memory
Laptop data logging -Data log all available channels directly to your laptop's hard drive for both tuning and diagnostics
Dual CAN Bus communication for Haltech Dashes and expansion devices, Supported OEM CAN & OBDII (view live engine data & set and clear diagnostic trouble codes)
Injection Stages 1 - 4 with individual injector flow rates per injector
8 Injector drivers for 2 sequential stages on 4 cylinder & 3 rotor engines and up to 4 sequential stages on 2 rotor engines
Anti-Lag/Rotational idle - for closed course racing, rally, circuit or drift. Build and maintain boost during closed throttle conditions
Rolling Anti-Lag - lock to your current (or pre-set) RPM or road speed for roll racing or pit lane limiting
Launch Control - Control your engines power delivery, RPM & boost for consistent performance at the start line
Traction Control - Control your engines power output via mappable front vs rear axle or individual wheel speed slip.
Advanced Tuning:
Tuning Table Resolution up to 32 x 32 x 8
Limitless tuning flexibility -Tune your engine by a combination of 4D tuning tables combined with 3D per cylinder compensations and multiple user definable corrections
tune by a combination of manifold pressure, throttle position, cam position, ethanol content, gear, road speed, race time, EGT, shock travel, ride height or any channel for ultimate flexibility - Dual mapping is a thing of the past.
Per Cylinder Tuning Correction - 3D
Wideband O2 - Connect up to 9 Channels via CAN expansion devices
Thermocouples/EGT (Exhaust Gas Temperature) - Connect up to 12 Channels via external CAN expansion devices
Engine Protection - Set advanced multi-level limits for sensors and protect your engine against common causes of failure
Race Functions;
Nitrous control with advanced programming of up to 6 stages of wet or dry nitrous kits with on/off delays & banked control options.
fuel and ignition corrections for all stages.
Boost Control -Intelligent 4D Closed loop, with learning, flexible user definable axis and 14 fully user definable boost target and duty cycle corrections.
Sequential turbo control
CO2 Boost control, wastegate pressure & position, intake air bleed control (charge pipe wastegate) functionality for the hard-core racer
Flat shift - Optimise your shifting precision via a combination of inputs such as a clutch switch or strain gauge.
Shock Travel/Ride Height inputs allow dynamic tuning and data logging to assist in chassis development and power delivery
Timer Functions - Use the combination of the race timer and 5 additional programmable timers for time based control of multiple engine parameters, power delivery and other user definable functions
Trans brake function allows smooth and consistent control of start line staging (Bump or Creep)
Advanced Torque Management - A fully integrated driveshaft RPM target race function that provides the ultimate control and consistency for the serious drag racer, eliminating the need for costly external controllers
Additional Haltech System: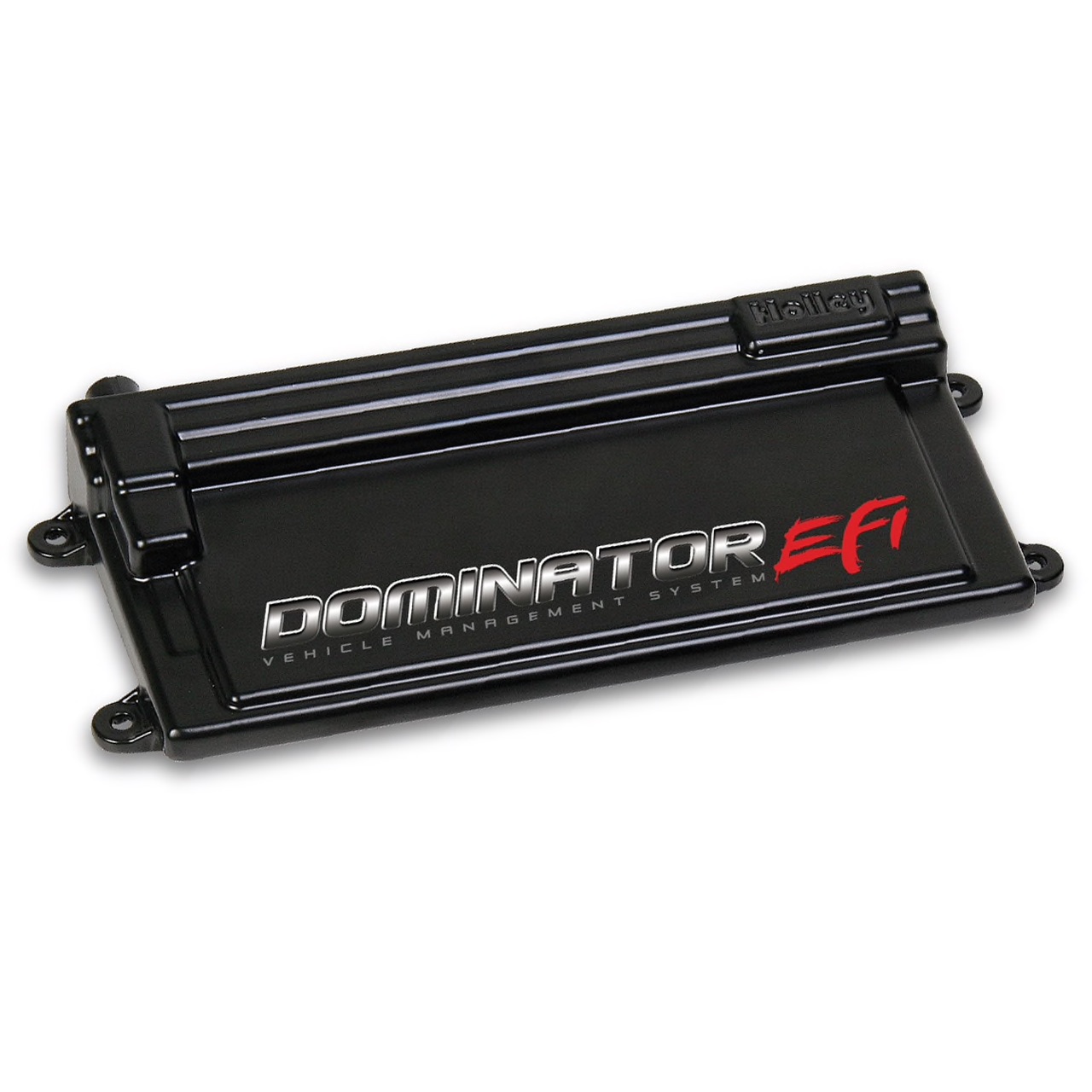 Features:
Works with 4, 6, 8 and 10 cylinder engines
Ignition Plug and Play with GM LS engines (non-VVT), GM HEI, Ford TFI, and magnetic and hall effect trigger. Custom settings can be configured to allow for use with many other applications
Integrated electronic transmission control - Operates GM 4L60E and 4L80E transmissions with more to come in the future
Integrated drive by wire throttle body control - Can control two drive by wire throttle bodies. Compatible with a number of DBW throttle bodies including GM, Chrysler, Ford, and Nissan
Integrated dual channel wide band oxygen sensor controls – For monitoring both engine banks (NTK or Bosch sensors)
Extensive amount of inputs and outputs allow for limitless combination of options. Allows for unit to be used as a complete data acquisition system as well
Twelve sequentially driven 8:2 peak and hold injector drivers, capable of driving up to 24 low or high impedance injectors as a standard feature. Multiple staged injector strategies
Twelve channel Distributorless Ignition (DIS) outputs capable of directly driving "Smart" ignition coils or Holley DIS coils. Will drive 2 wire coils with the addition of PN 554-112 high current coil driver module
Speed density, Alpha-N, Alpha-N Combination, and VE fueling strategies – Tuner has the option to select from a variety of load sensing strategies to meet their engine requirements or tuning preference
Individual cylinder fuel and spark control allows you to unlock your engine's potential
Unique lb/hr based fueling strategy greatly simplifies and commonizes tuning
Advanced idle, closed loop, and enrichment strategies allow for very stable engine operation
1-5 Bar MAP sensor capability – For naturally aspirated or boosted applications
Fuel Map and Learn Function Smoothing – Helps to smooth rough areas of the maps
Configurable User Password Protection – "Lock" your tune to prevent tampering
Self-tuning fuel table strategy greatly simplifies tuning process – The more you drive it, the more it learns
"Quick Start" strategies – For faster engine starting
Allows for use of common OEM sensors as well as custom sensor calibration input
Two channel knock control sensor inputs for both one or two wire knock sensors
Dedicated fuel and oil pressure inputs
Controls both stepper and PWM Idle Air Control (IAC) motors
3 Rev Limiters – Choose between 4 options for each: Fuel Only, Spark Only, Fuel and Spark, or Soft
Traction Control – Allows power reduction via timing, nitrous percentage or boost (Requires Davis Technologies Holley Module)
Store and select between four calibrations with Multi Map Selector
Data visualization
Boost control
Other Holley ECUs:
12. SCT GTX Performance Programmer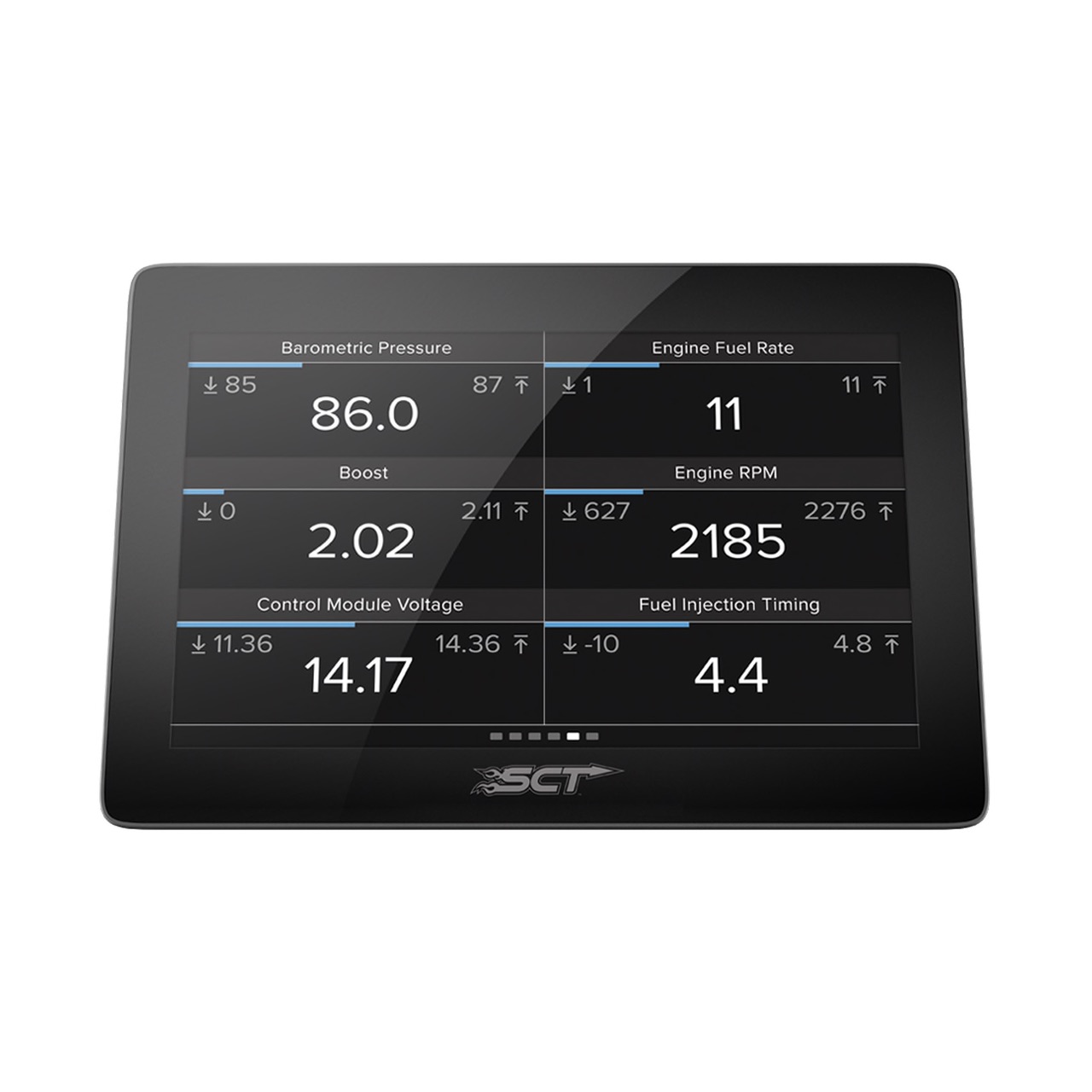 Features:
Starts up in under 10 seconds
5-inch capacitive glass touch screen
Hold 20 custom tunes
Preloaded with multiple SCT tuning levels
Data monitoring, giving drivers the ability to monitor the industry's most extensive list of PIDS, or engine parameters, on an easy-to-use device
High-resolution customizable gauges and WiFi connectivity
oCan receive custom tunes via WiFi from any of SCT's custom tuning dealers around the country
Drivers can log vehicle performance data as they drive, and play it back later using SCT's free LiveLink software
Reads out and clears Diagnostic Trouble Codes (DTCs)
Grab n' go magnetic mounting system allows the device to be kept front-and-center while driving, and then quickly stowed away when not in use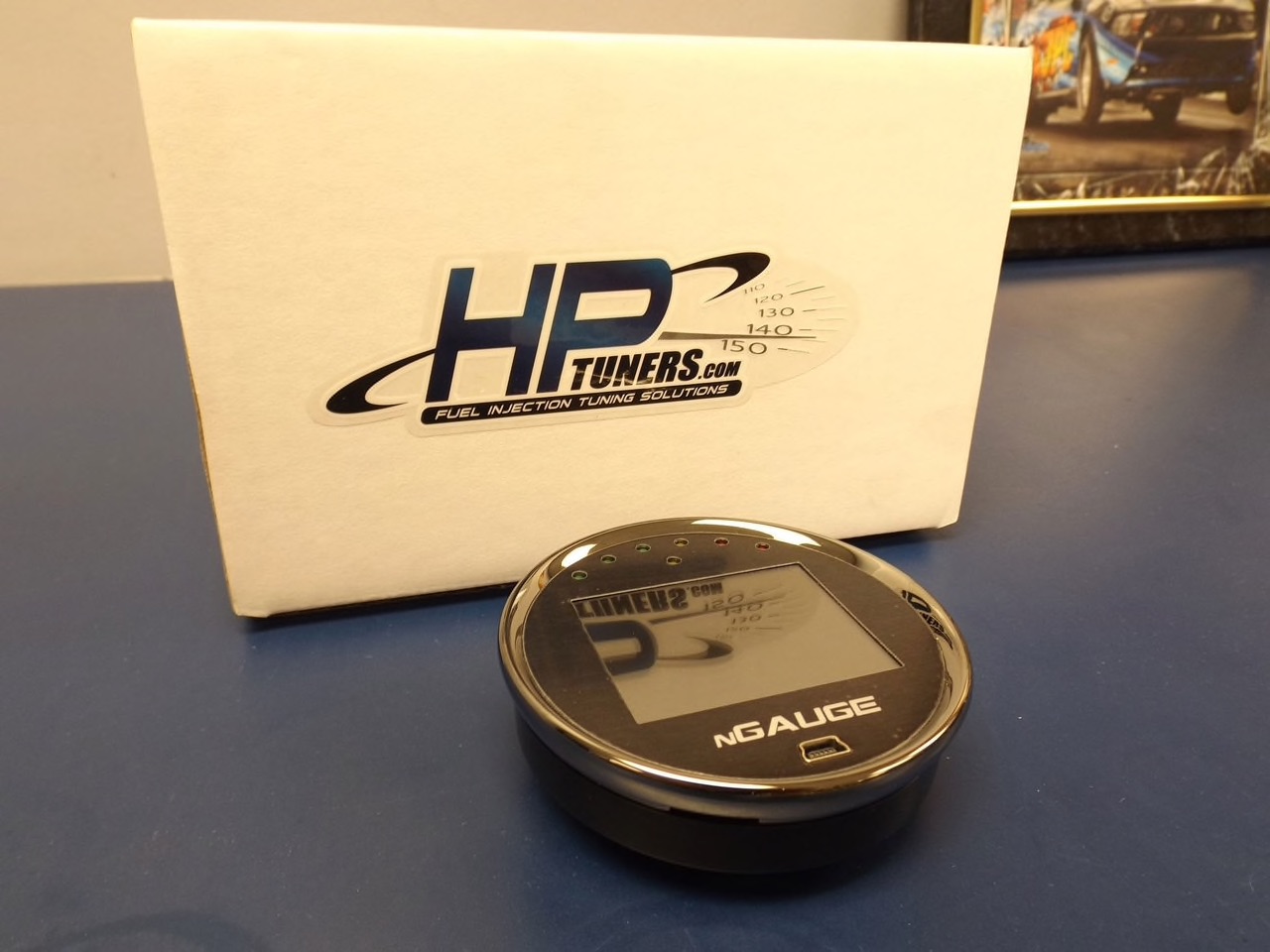 Gauge Functions
User configurable digital gauges
Display up to 6 gauges at a time
Pick from hundreds of OBD2 signals
Record log files to MicroSD Card
Program warning lights
Built in diagnostics
Dasiy Chain up to 7 gauges together
Optional Tuning Feature
Tuning can be enabled by partner companies such as JPCracing.com
Read and save stock file
Support for Ford now GM and Chrysler coming soon
Support for HP Tuners software coming soon